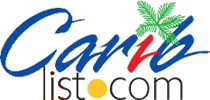 Introduction to Cariblist
Cariblist has been around since 2001, so many people will be familiar with our site and the features we offer. This new version of our site offers several
new features for users; perhaps the most useful is the ability to save your search parameters. Once you do this, the system will notify by email within minutes
of the addition of a property which meets yourv search criteria. This means that, once you have searched the site, you do not need to return to the site
to run the search over and over until you find what you're looking for.
In order to take advantage of this feature, you will need to register with us so that we know where to reach you.
When you register, our system sends you an email asking that you confirm receipt and activate your account. Until this is done, you will be unable to save searches.
The speed at which you receive this email vares depending on several factors that are beyond our control; it ranges from almost immediately to several minutes.
We suggest therefore that you register with us before you start doing any serious searching so as not to delay being able to save your searches.
To register with us, click on the red button on the Home page, select 'I wish to register tosave searches', and complete the form with your information. You will
shortly get an email asking you to activate your account; click on the Activate button, login and start your searching as outlined below.
Searching for Properties
Option 1 - The Find-it box
This is the box along the top of the main area of the home page, next to a black button labelled 'Find it'.
This box carries out a free-form text search on the addresses of listings on our site in the category of listing selected in the grey search box on the left.
Select 'Sale', 'Rent' or 'Short Term' depending on what you are looking for, and enter an address or part of an address into the box and press 'Enter'.
This search will find every listing which has your entry in the address. Example: Entering 'heights' in the box will find every listing with that in the address.
'Kingsland' will find all listings in Kingsland, 'Kingsland heights' will return all listings in Kingsland Heights.
Option 2 - By Property ID
If you know the ID of the property that you are looking for, you can enter it in the box to the left which says 'Enter Property ID here'.
Click on View or press 'Enter' to go directly to the property.
Note: If the property is not displayed, check to see whether pop-ups are
blocked in your browser settings. This will vary from browser to browser, but they all give you an option to allow pop-ups. Some even allow you
to specify which sites you would like to allow pop-ups on.

Option 3 - By Agent
Immediately below the red buttons in the search box, you will find a box which allows you to select an agent. Again, click on 'Sale', 'Rent' or 'Short Term'
depending on what you are looking for and click in the Agent box. You will get a drop-down list of all the agents on our system. Select the one that you wish
and the system displays all the relevant data.
Option 4 - The Search box
The search box on the left side of the screen gives users great flexibility in finding what they are looking for. If someone needs more information,
they can click on the 'Advanced' button at the bottom of the box and a yellow box will slide into place over the regular box. This box will allow you to search
multiple parishes, property types and features, and also list all properties listed in the selected cateory for a user-definable number of days
To leave the advanced search, just click 'Advanced' again.
Saving your Search
After you have executed your search,you will be presented with a list of properties which match your search criteria. Each listing will occupy 5 lines
and you will see a summary of the property listed.
At this point, you will see at the right top of the list a blue 'Save Search' button. If you have already registered as a user on our site, you will be asked to Log in.
Once you have done this, your search will be automatically saved and, when you log in, you will have te option to see your saved searches from your dashboard
You can save multiple searches for Sale, Rental or Short Term Rentyal properties. In your menu there is a 'My Search' opton. Click on that, then you are presnted with
a drop-down box in the top band. That drops down and gives you the option to select which category of search you wish to see. The system displays the search criteria for each
one and you can open each one manually if you should wish to do so.
Contacting a Property Lister
To contact someone who has listed a property that you are interested in, you need to display the Property Detail page. You can open this page by clicking on the property
address on the Search Summary page.On the right side of the page, immediately below the Property Area is a grey box labelled 'Contact Information' There are links for
either Telephone or Email. These will put you in direct person with the agent or individual who listed the property.
Please do not contact Cariblist to get more information on any listing - We are not a real estate agent, and have no more information than what you see on the detail page.